A difficult childhood
"When I was young, my life was difficult: I picked bindweed and scavenged in the rubbish dump and in the streets. I only slept three hours a day, the only thing I thought about was work" Seladavid recounts. "The rubbish dump is a very difficult and dangerous environment with the bulldozer and all the broken glass as I walked barefoot. I cannot begin to describe the situation on the rubbish dump" he adds. 
"For me, it was normal to work because I came from a poor family but still I wanted to go to school. I could see other children who were clean and could play. I could see them smiling and laughing. I was hoping I could go to school someday, just like the other kids" he explains. 
Meeting with PSE
"The first time I heard about PSE was when I was six years old: my mother told me she had contacted an NGO called For a Child's Smile and thanks to a French couple, Papy and Mamie, I could go to school. For me it was incredible to be able to go to school. Finally, my dream had come true, I was going to be just like all the other kids". 
""Whitout PSE, I would probably still be a scavenger, or I would be working in construction. Luckily my mother had heard about Papy and Mamie!" he adds. 
Going to state school was a magical moment for Seladavid but his happiness didn't last. "On the first day, I thought 'school is paradise!' I felt clean in the uniform PSE had given me. But I understood I wasn't like the other kids when the teacher said: 'he is a scavenger, he has been sent here by an NGO in Phnom Penh'. The other children and the teachers were scornful of me. I was very lonely at school while all the other kids were playing together. It is hard to recount that..." he says, choking with emotion.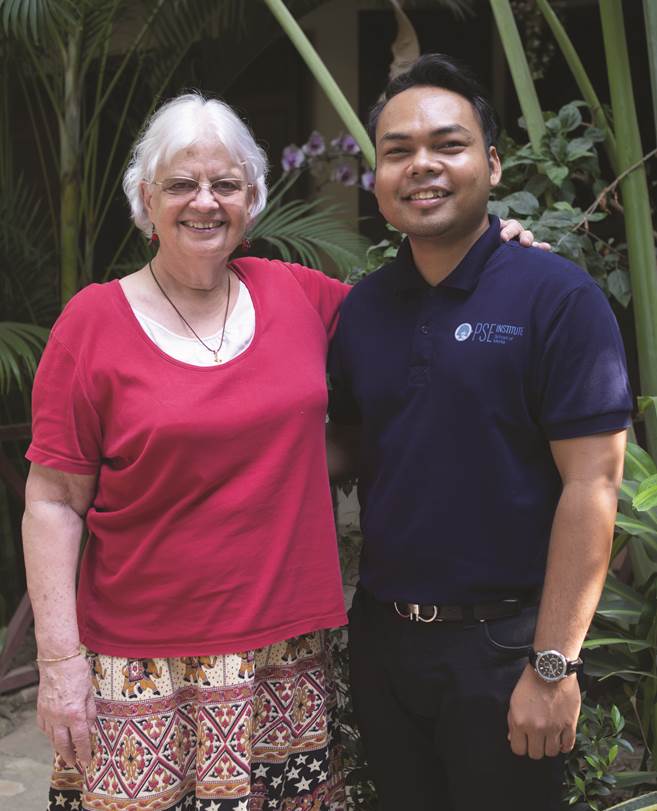 Seladavid wanted to drop out of school but he spoke with his mother who contacted PSE's social team. The social team understood the difficulties the young boy faced and let him continue his studies in the PSE Centre. "I was happy there because we were all in the same situation". 
Achieve his goals
"In 2010, I volunteered to help at the summer camps. I couldn't speak French or English so I was communicating with the European volunteers through hand signals. It was very difficult so I realised I had to learn English. I read a lot, writing all the difficult words in a notebook; I also spoke a lot with the English teachers. The next summer, I could communicate in English. So I thought 'why not learn French?'. I learnt in the same way: I read, listened to the radio, watched TV and participated in Francophone events. In 2012, I could understand and communicate in French. I was very pleased with myself because I saw the result of my efforts". 
Seladavid took his Baccalaureate (A Levels) as he had mastered two languages. His dream? To study French at university or to study at the School of Media, he was passionate about cinema. It was a simple numeric confusion that decides his future. "I had a grant to study at university but I still wanted to do the interview with Papy and Mamie to see if I could go to the School of Media. Papy asked me a lot of questions: 'why do you like this school?', 'what do you think of cinema in Cambodia?', etc... Then he asked me 'Do you think you would like study here?'. I wanted to answer 'I am 80% sure' but I mixed up my numbers and said 40% instead. Since he knew I had a grant to go to university, he encouraged me to go there. When I realised my mistake, I thought it wasn't a big deal and that I could try to go to the School of Media again later. Moreover, I was happy to go to university."
Seladavid got his degree and became a French teacher. His passion for the cinema caught up with him again and he joined the School of Media staff and became an education counsellor. "I could have worked somewhere other than PSE but it was really important for me to help the NGO. There is a big picture of Papy in my office, because it was his school. Even though he passed away in 2016, he still works with us every day. Later, I would like to run one of PSE's programmes so I can help the destitute children" Seladavid says. 
"If I could give advice to the children who start at PSE, I would tell them to commit themselves, study hard and always think about school because it's through education that they will get good jobs and change their lives. If I have succeeded, it was not because I am smarter than the others but because I am motivated and have passion in what I do" he explains. 
Building his future
"In December, I will marry Rida, a former PSE student, I met in 2012" he says with a large smile. "Later, when we have children, I will tell them my story so they know my past".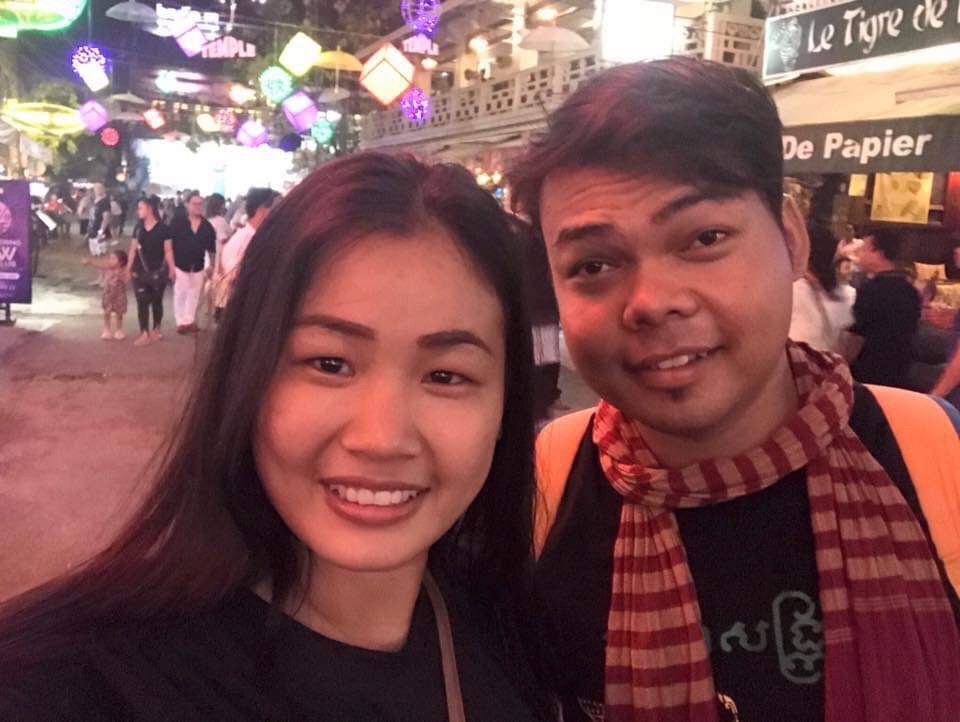 "Today, I'm very proud of myself because I escaped from a difficult situation! I am also very proud of my mother and my family."
Participation in the 2019 Tour
"I am very happy I participate in the 2019 Tour because it has been a dream to come to France and to help PSE" Seladavid explains. As happens every year, Marie-France des Pallières, founder of PSE, does a tour in France to introduce PSE and talk about the situation in Cambodia. She always takes a former PSE student with her so they can talk about their experiences. This year, she chose Seladavid to come with her. 
"Before coming here, I thought it was going to be difficult because I would be far from my country and in a very different environment. But as soon as I arrived, I realised that everything would be fine. It is a very beautiful country and I love the food here: bread, charcuterie, cheese... I have eaten a lot since I arrived" Seladavid says as he laughs. 
For over two months, the young man has shared his story with the people who came to meet him. "At the beginning it was hard to tell my story in French because it's not my mother tongue. But I'm trying and put a lot of effort into it because I know it's a way to help PSE" explains Seladavid. "Also, what is difficult is to think again about my past: the rubbish dump, the streets, eating what I found in the garbage... But slowly I have realised that it's just the past and I need to focus on the present and my future."
"Thanks to this trip I have learned a lot of things, it has been very interesting. I have seen differences in how people live and talk to each other. Here, people are not afraid to share their ideas; it's not like that in Cambodia. Maybe when I get back, I'll try to the copy the French style" Seladavid concludes smiling.