For over twenty years – since it was established – Pour une Sourire d'Enfant has not only brought food and healthcare to the most deprived children but also schooling and high quality vocational training.  PSE is working hard to further improve standards! The start of the school year is an important milestone to allow the big PSE "family" to aim higher!
The students gathered on the morning of 4th September for the traditional raising of the colours, in the presence of the whole faculty team. This must-see event will take place every school day morning throughout the year.
The children need each one of us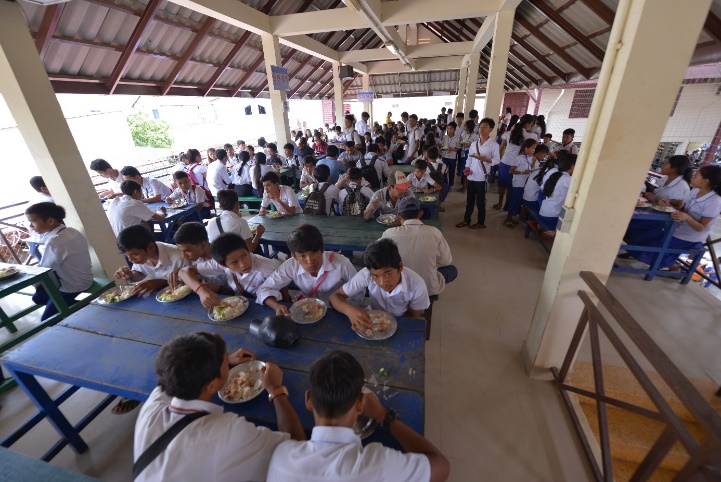 Behind the scenes, all the staff are busy making sure each child is issued with an access badge, their uniform and their school equipment. The canteens are ready to receive them, morning, noon or evening depending on the timetable of the children. "We will soon celebrate the first anniversary of Christian's (Papy) departure" confides Marie-France des Pallières, co-founder of PSE. "This is an opportunity to remind ourselves of the reasons that led us to set up this charity more than 20 years ago: that the most disadvantaged children are fed. Then they have access to education so that they can escape destitution and become fully integrated into society, to have a decent life allowing them to take care of their own families. [...] This means that they need us, no matter who we are and what job we do at PSE"
Encourage everyone to achieve the best they can
Last year we organized tutoring for 700 children we identified as being at risk of stalling in one or more subjects.  We have maintained support courses during the school holidays and will further strengthen the system during the year so that the maximum number of primary school pupils have the chance to continue into secondary school, then into vocational training or, even, to Baccalaureate and higher education.
What makes a good teacher?
"Our team aims to strengthen the quality of teaching and foreign languages, with English as a priority," explains Ann Robraw, Director of the PSE Teaching Team. To achieve these goals, PSE does not work alone but in close collaboration with the teams from the Ministry of Education. "We have worked hard together in recent years to train state school teachers in our remedial schooling methodology. This year, together, we will develop the textbooks of Year 4, which corresponds to levels 7 and 8 (equivalent of the 5eme and 4eme in France)." explains Robraw. "We also have the goal of establishing personal development for youngsters. It is not only a question of being a good professional from a technical point of view, but also to train future citizens and mothers & fathers of Cambodian families!"
Student Orientation and Strengthening of English
Our preparatory classes offer young people, at the age of 17, an intermediary year between schooling and vocational training. They study intensive courses of Khmer, mathematics, English, learning about businesses and developing a professional attitude, familiarise themselves with different trades and prepare their orientation.
This year, "discovery classes" will be organised at our centre in Siem Reap so the students there can choose the most suitable courses for them. During 5 days, students will discover the diversity of trades, meet professionals from different sectors and take time to think about the job of their dreams.
On top of this the teaching of English will be improved. "We get volunteers, many of whom English is their mother tongue" says Fabien Dutasta, Director of the Institute. "They are assisting our English teachers. Thanks to this, we can regularly divide the classes into two to provide in depth conversation tuition."
Vocational Training: improving conditions
"All our training programmes include a high proportion of practical tuition, it is a key feature of PSE's approach and is essential to ensure our young people are prepared for employment." Insists Fabien. "It is therefore crucial to have access to the best equipment so practical exercises are effective and working conditions are as close as possible to the those in businesses."
For example, the laundromat used by students of the Hotel and Tourism School is undergoing renovation. A complete renovation of our training restaurant, Le Lotus Blanc, is being assessed so as to expand the kitchens as well as the capacity of reception. By the end of the year, the old electricity workshops will be renovated and the premises restructured to allow young people to train in good conditions.
Finally, our Business School has moved into its new premises! A few hundred metres from the old PSE centre, the new Oberk Ka Orm (OBK) campus enables students, professors and staff to work in the best conditions for learning, group work and the empowerment of students!